Your design can make a difference!
Join us in a 10-day architecture masterclass to provide innovative affordable housing designs (with the criteria of being climatic, community-based and culturally contextual) for the City of Jakarta. The masterclass will be at the Erasmus Huis, guided by the best of Jakarta architects, reviewed by international panel of mixed disciplines. The output will be a 2-minute movie trailer and drawings, which will be curated and exhibited at the Erasmus Huis. At the end of the program, together with the Berlage (Delft), we will stage a public debate on the concept of 'social housing'. The series of activities are productive and exciting for the public at large, local government, institutions, corporate social responsibility of the private sectors, academics and professionals in architecture and urbanism.
Participation to the master class is open to Indonesian and international participants. Only for talented young architects. Fresh graduates, master students and Bachelor students at the 3rd or 4th year are welcome.
IAI Jakarta members will receive KUM (to be announced). We have only 30 places available!
Registration is closed.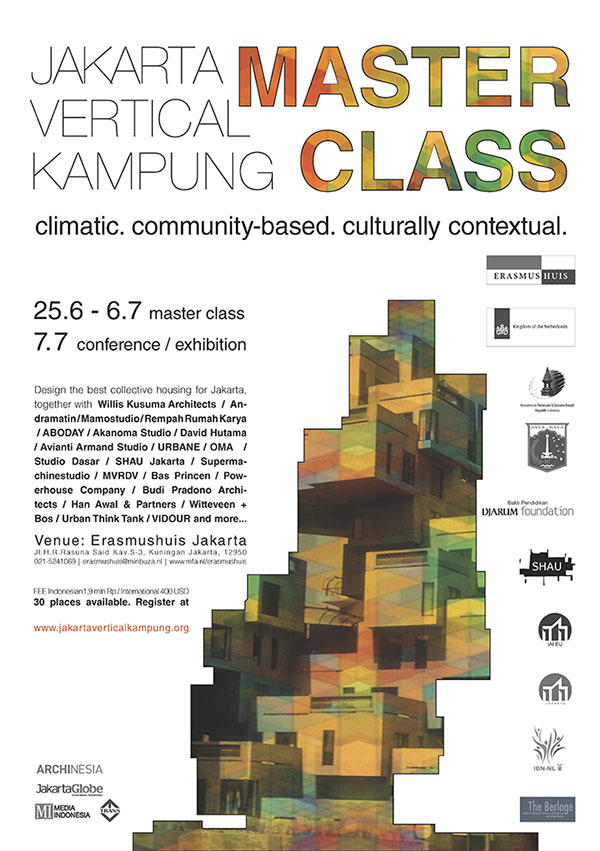 Who is Involved?
Guest Teachers
Andra Matin (andramatin), Wiyoga Nurdiansyah (SUB), David Hutama (Universitas Pelita Harapan), Achmad Tardiyana (URBANE), Yogi Ferdinand (SHAU), Willis Kusuma (Willis Kusuma Architects), Avianti Armand (Avianti Armand Studio), Ary Indra (Aboday), Adi Purnomo (mamostudio), Paulus Mintarga (Rumah Rempah Karya), Yu Sing (Akanoma Studio), Ivan Kurniawan (National University of Singapore).
Presentation & Media Team
VIDOUR
Panel/Reviewers
Eko Prawoto (UKDW), Achmad D Tardiyana (URBANE), Budi Pradono (Budi Pradono Architects), Danny Wicaksono (Studio Dasar, Jongarsitek), Yori Antar (Han Awal and Partners), Antonio (barefoot architects, FORKIM), Bin Kim (University of Seoul), Daewon Kwak (Design Guild Korea), Pitupong Chaowakul (Supermachinestudio), Nanne de Ru (Berlage, Powerhouse Company), Antonio Ismael Risianto (FORKIM, Triaco), Jonathan Pasodung ( Head of housing dept. City of Jakarta), Zoraida Ibrahim (Director of Architecture and Design, Ministry of Tourism and Creative Economy), Christophe Girot (Landscape Professor ETH), Frank van Woesik (Witteveen + Bos), Parwoto Tjondro Sugianto (World Bank), Rita Padawangi (NUS) and Imam Prasodjo (Yayasan Nurani Dunia).
Lecture Sessions
Community Architects Session: Ivana Lee (Ciliwung Merdeka), Anita Syafitri and (FORKIM), Yuli Kusworo (ARKOM)
Designer Skype session: Winy Maas (MVRDV), Alfredo Brillembourg (Urban Think Tank).
Climate design session: Jaap Wiedenhoff (ARUP)
Betawi culture session: Ikatan Kesenian Jakarta
Architecture session: David Gianotten (OMA)
Curators
Daliana Suryawinata & Florian Heinzelmann (SHAU)
Assistant Curator
Maria Vera van Embden Andres (SHAU)